杨祥良教授、甘璐教授在增强抗PD-1肿瘤免疫治疗方面取得重要进展
发布时间:2021-01-28 点击次数:
1月19日,《自然-通讯》(Nature Communications)在线发表华中科技大学生命科学与技术学院、国家纳米药物工程技术研究中心杨祥良教授、甘璐教授团队完成的研究论文"Boosting Anti-PD-1 Therapy with Metformin-Loaded Macrophage-Derived Microparticles"。
尽管抗PD-1免疫疗法在肿瘤治疗方面取得了不俗的进展,但在很多实体瘤的治疗中仍存在响应率不高的问题。导致PD-1抗体肿瘤免疫疗法耐受的主要原因有:① 肿瘤组织T淋巴细胞浸润不足,即所谓"冷肿瘤";② 包括M2型肿瘤相关巨噬细胞(Tumor associated macrophages,TAMs)、骨髓来源的抑制性细胞(Myeloid-derived suppressor cells,MDSCs)、调节性T细胞(Regulatory T cells,Tregs)等免疫抑制性细胞构成的肿瘤免疫抑制微环境削弱了其抗肿瘤免疫反应;③ 肿瘤畸形的血管结构、高间质液压以及致密的胞外基质等生理屏障阻碍了PD-1抗体在肿瘤组织的有效蓄积和深部穿透。如何解决以上问题来增强PD-1抗体治疗效果面临着诸多挑战。
M2型TAMs在促进肿瘤生长、血管新生、肿瘤转移及免疫逃逸方面发挥重要作用。本研究利用巨噬细胞具有天然的肿瘤靶向性及M2型TAMs高度表达甘露糖受体的特点,构建了甘露糖(Mannose, Man)修饰的巨噬细胞来源微颗粒(Microparticles, MPs)并负载二甲双胍(Metfromin, Met)。此载药微颗粒(Met@Man-MPs)能有效靶向肿瘤M2型TAMs,促进M2型TAMs逆极化成具有抗肿瘤活性的M1型,有效抑制肿瘤生长。Met@Man-MPs能有效改善肿瘤免疫微环境,利用其逆极化成M1型TAMs分泌的细胞因子TNF-α等促进CD8+ T细胞的招募,并降低MDSCs、Tregs等细胞数量;更重要的是Met@Man-MPs携带有巨噬细胞来源的基质金属蛋白酶(Matrix Metalloproteinases,MMPs),能有效降解肿瘤胞外基质,增加CD8+ T细胞向肿瘤组织深部浸润、以及PD-1抗体在肿瘤组织的富集和深部穿透。在多种荷瘤动物模型抗肿瘤实验中均证实Met@Man-MPs能有效改善PD-1抗体的治疗效果,并形成长期的抗肿瘤免疫记忆。该研究为改善PD-1抗体治疗效果提供了新的策略。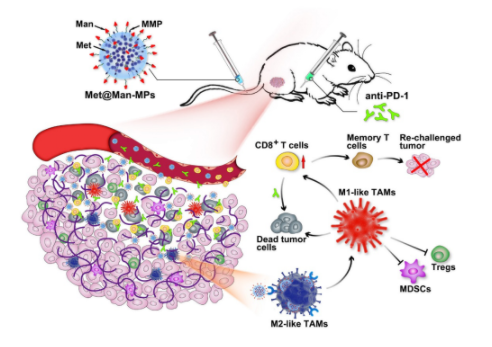 华中科技大学生命科学与技术学院甘璐教授、杨祥良教授以及中国医学科学院基础医学研究所黄波教授为本论文的共同通讯作者,华中科技大学生命科学与技术学院博士生韦朝晗和张晓琼为本论文的共同第一作者。华中科技大学同济医学院附属同济医院张必翔教授、喻晶晶博士以及华中科技大学校医院黄刚医生等参与了该工作。该工作得到了国家重点研发计划和国家自然科学基金等项目的资助。
Professor Xiangliang Yang and Professor Lu Gan from Huazhong University of Science and Technology make significant progress in boosting anti-PD-1 tumor immunotherapy
On ***, a research papers entitled "Boosting Anti-PD-1 Therapy with Metformin-Loaded Macrophage-Derived Microparticles" has been published online on Nature Communications. This paper is completed by the team of Professor Xiangliang Yang and Professor Lu Gan from College of Life Science and Technology, Huazhong University of Science and Technology (HUST) and National Engineering Research Center for Nanomedicine.
Programmed cell death 1(PD-1) checkpoint blockade is a promising clinical anticancer treatment modality. However, durable response rate to anti-PD-1 therapy remains relatively low in most cases. The major factors attributed to the resistance to anti-PD-1 therapy include the lack of infiltrating T lymphocytes in tumor tissues characterizing the so-called "cold-tumor", and the presence of tumor immunosuppressive microenvironment, such as M2-like tumor associated macrophages (TAMs), myeloid-derived suppressor cells (MDSCs) and regulatory T (Treg) cells to hamper anti-PD-1 antibody-regenerated anti-tumor cytotoxic T lymphocytes and Th1 cell response. In addition, the aberrant vascular architecture, elevated interstitial fluid pressure and compact extracellular matrix (ECM) in tumor tissues hamper the tumor accumulation of anti-PD-1 antibody and subsequent deep penetration into tumor parenchyma, which limits the therapeutic effects of anti-PD-1 antibody. Therefore, enhancing potential responses to anti-PD-1/PD-L1 antibody remains a big challenge.
M2-like TAMs play an essential role in promoting tumor growth, angiogenesis, metastasis, and tumor immune escape. Considering the tumor targeting capacity of macrophages and the highly expression of mannose receptor in M2-like TAMs, mannose (Man)-modified macrophage-derived MPs are used as carriers for targeted delivery of Met (denoted as Met@Man-MPs) to M2-like TAMs. Met@Man-MPs efficiently reset TAMs toward M1 phenotype to inhibit tumor growth. Meanwhile, Met@Man-MPs significantly improve tumor immunosuppressive microenvironment, decrease MDSCs and Treg cells, and enhance CD8+ T cell recruitment by the reeducated macrophages-secreted TNF-α。More importantly, Met@Man-MPs carry matrix metalloproteinases (MMPs) derived from macrophages, which can efficiently induce tumor extracellular matrix (ECM) degradation, resulting in the deep infiltration of CD8+ T cells into tumor interiors and the tumor accumulation and penetration of anti-PD-1 antibody. These unique features of Met@Man-MPs contribute to the anticancer treatment of anti-PD-1 antibody, leading to the strong anticancer efficacy and the generation of long-term memory immunity after co-administration. This study provides a new strategy for boosting the therapeutic effect of anti-PD-1 antibody.
The corresponding authors of this work are Professor Lu Gan and Professor Xiangliang Yang from College of Life Science and Technology, HUST, and Professor Bo Huang from Institute of Basic Medical Sciences, Chinese Academy of Medical Sciences. Doctoral student Zhaohan Wei and Xiaoqiong Zhang are the co-first author of this research paper. Professor Bixiang Zhang, Doctor Jingjing Yu from Tongji Hospital, Tongji Medical College, HUST, and Doctor Gang Huang from School Hospital, HUST also participate in this study. This work is supported by National Key Research and Development Project of China, and National Natural Science Foundation of China.